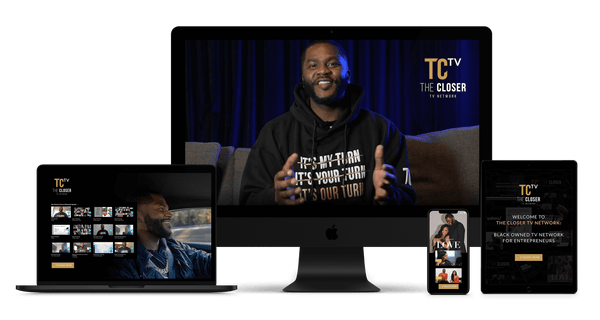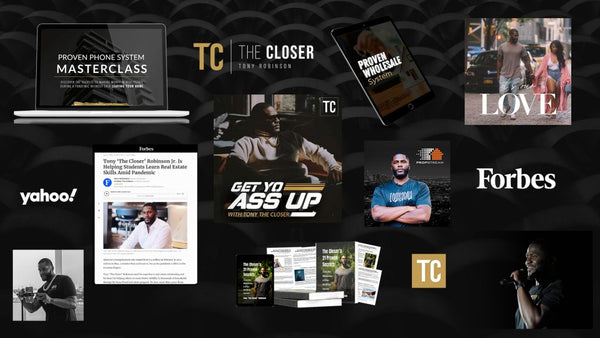 Welcome to TCTV: Your Gateway to Real Estate Mastery with Tony 'The Closer' Robinson
Unlock Your Financial Potential with TCTV & RONAPROOF REAL ESTATE COURSE
TCTV is not just a TV app; it's a revolutionary platform created by Tony 'The Closer', a renowned real estate expert. Dive into the world of real estate investment and gain invaluable insights from industry leaders and celebrity guests.
Exclusive Course Outline:
Finding Leads Using Propstream: Master the art of building your list, selecting your market, and locating cash buyers.
Contacting Sellers: Access our efficient tools and templates for direct communication with sellers.
SMS Blast & Cold Calling Techniques: Learn effective communication strategies for consistent seller engagement.
Making Offers & Calculating Numbers: Gain expertise in offer presentation and financial assessment.
Contract Crafting: Utilize Tony's proven templates and training for effective contract creation.
Navigating Escrow & Title Companies: Learn organizational strategies for smooth title company interactions.
Discovering Cash Buyers: Uncover Tony's exclusive methods for finding and engaging cash buyers.
Assignment Contract Skills: Employ Tony's assignment contract tactics for successful cash buyer transactions.
Closing Process Navigation: Master the closing process with industry best practices.
Securing Your Earnings: Reap the rewards of your hard work and dedication.
Members-Only Channels & Exclusive Access:
RonaProof Virtual Wholesaling Facebook Group: Join our unique community for additional training and resources.
RonaProof Profits Group: Access insider deals and enhanced communication channels.
Extensive Training Resources:
Live Training Replays with Tony: Delve into Tony's strategies and market insights with a comprehensive replay vault.
The Closer's Proven Wholesale System: A comprehensive guide to launching and growing your real estate wholesale business.
Wholesaling Mastery with ChatGPT-4: Revolutionary strategies for 2023, blending traditional wisdom with cutting-edge technology.
Special Bonuses:
21 Proven Secrets eBook
Ronaproof eBook
Ronaproof Master Course
The Closer's Credit Secrets
Exclusive Holiday Offer:
Original Price: $1,997. Today's Price: $29/month. Secure lifetime access to TCTV for just $29.99/month during our holiday sale. This includes:
Get Yo Ass Up Show: Uncut interviews with Tony.
It's Our Love Series: Tony & Nichole Lynel's love story.
Drop Web Series: The latest hot TV series.
Exclusive Real Estate and Credit Trainings
Stream on Roku, Firestick, Android, iPhone, Apple TV, or laptop.
Join Now and Transform Your Real Estate Journey with TCTV!